PLEASE NOTE: SORRY WE ARE STILL CLOSED. WE ARE STILL SETTING UP OUR NEW SHOP AND STUDIO AND HOPE TO START UP AGAIN IN THE SPRING OF 2018. THIS WAS A HUGE MOVE AFTER 35 YEARS.
WELCOME TO SCALECREATIONS1
HANDCRAFTED ROOMBOXES / DISPLAY CASES / SHADOW BOXES / DIORAMAS AND MINIATURE SPIRAL STAIRCASES / ASSEMBLED / CUSTOM SIZES / CUSTOM WORK / FINISHING / ELECTRIFICATION
These high quality "dual use" Room Box/ Display Cases are fully assembled, ready to finish and decorate. The front window is an optical quality acrylic and slides up and out for easy access to the interior. The Cove moldings for the front , and corner moldings, are solid wood and the walls are usually Luan or Meranti ply with a smooth finished, sanded exterior side. (We try to hand pick the best plys we can find. Parts are precision cut for a great fit. These quality pieces can be finished with paint, stain, or wallpaper. There is a handy slot cut in the rear panel base to slide an electrical "ribbon" cable through for interior lighting. We normally assemble these as pictured horizontally but can be assembled for upright use on request. We have many professional artisans and dealers who use our products on an on-going basis. We are proud to have received many emails praising their quality. To see our feedback on ebay click here
OUR FOUR STANDARD ROOMBOX DISPLAY CASE INTERIOR SIZES
WE CAN BE BUILD UP FOR HORIZONTAL OR VERTICAL USE
NEW! FULL MITER CUT CORNER MOLDING THAT COVERS ALL EDGE INCLUDED

SLOT IN REAR PANEL FOR ELECTRICAL TAPE ENTRY. View slot.

We can also electrify, and customize to your specs. Also visit our "Custom Work" pages for examples of our work.
FREE SHIPPING IN THE CONT. US
| | |
| --- | --- |
| 7001 LARGE ROOMBOX - INTERIOR MEASURES APPROX. 17"L x 11"H x 11 1/2"D | $125.00 |
| | |
| --- | --- |
| 4001 MED ROOMBOX - INTERIOR MEASURES APPROX. 14"L x 10 1/2"H x 10 1/8"D | $99.00 |
| | |
| --- | --- |
| 3001 SMALL ROOMBOX - INTERIOR MEASURES APPROX. 13"L x 9"H x 8 3/4"D | $89.00 |
| | |
| --- | --- |
| 2001 MINI ROOMBOX - INTERIOR MEASURES APPROX. 13"L x 9"H x 6"D | $85.00 |
Clear top option (see picture) for any model add $12.00  

Electrify any model including all components -click here for details and price
<![if !vml]>
<![endif]>
CLICK HERE TO VIEW OUR LATEST CUSTOM WORK
We have made many custom sizes, styles and can promptly quote on just about any size. Simply email your address with zip code and the interior dimensions you require. List any special requirements. We will get a quote out to you right away. (Custom sizes are usually fully assembled and start at $125)Please email with any questions. Custom sizes and stock sizes always available. We can electrify any of our models for $85.00! Quantity discounts and reduced shipping charges are available. Please contact us with any questions or special needs.
OUR GIFT BOX WITH WRAP AROUND WINDOW
Our latest 8001 Giftbox style design. Cover and window lift off for easy decorating. Can be decorated in the Gift box fashion by covering with wrapping paper and a big bow. A very elegant gift. Interior dimensions are approximately 11"L x 10"W x 11"H (Electrified option with all components shown below additional $85.00)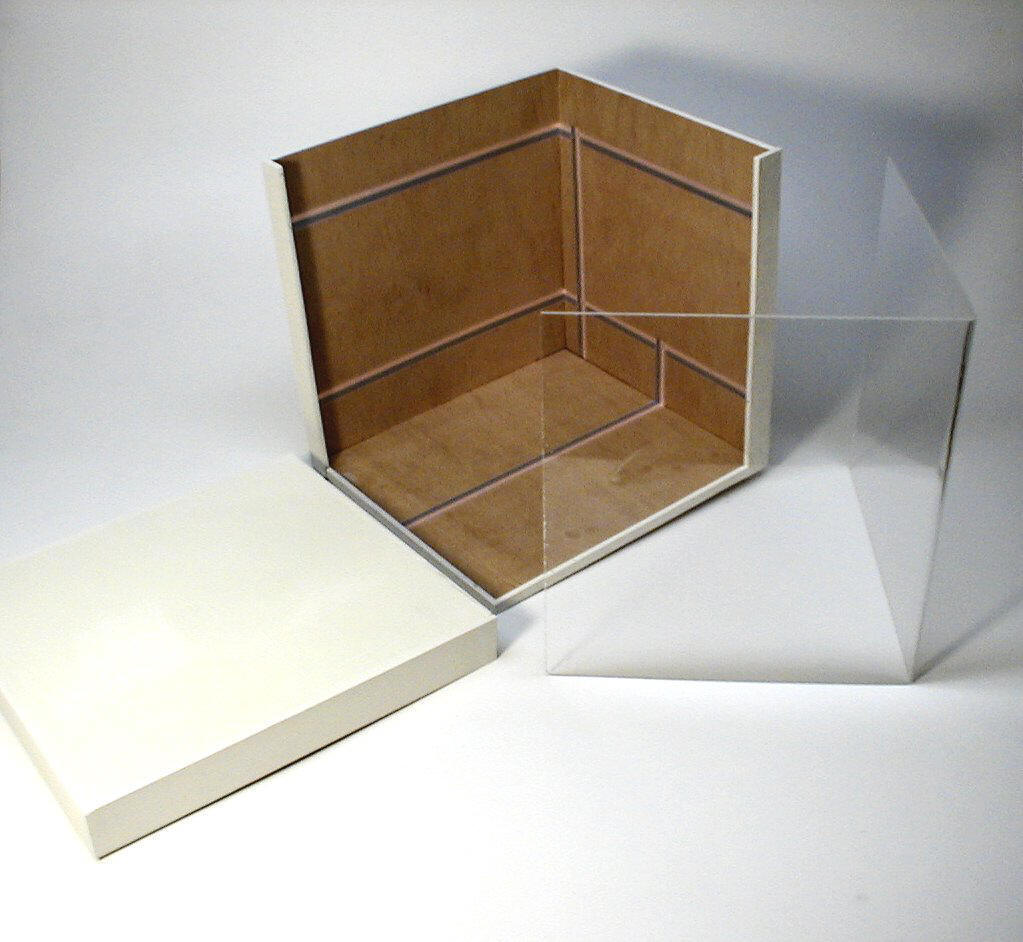 $125.00 fully assembled-ready to finish and decorate!
We use the electrical method shown below using a failsafe technique where each electrical tape wire run has at least two connection points. This ensures reliable connections even if one point fails. All connections are fully tested. Walls, floor and ceiling have tape wire installed. Transformer, splice, removable cord with switch are installed as shown.

All 5 sides are taped. Two tape runs on the back and sides, also along the ceiling and floor.

Precision holes are carefully drilled per manufacturers specs.

Grommets are pressed in and seated.

Each connection is tested with a continuity tester for reliability

Transformer with circuit breaker, Splice , Removable Cordset with Switch as shown above included

$85.00
36" LONG "BIG BOY" ROOMBOX
(OPTIONAL ROOM DIVIDER AVAILABLE)
We ship this box partially assembled with easy to follow assembly instructions. The frames and corner moldings are pre-assembled. It is simply a matter of gluing the prebuilt sections into slots provided. The interior dimensions are approximately 36" across by 22" high by 20" deep. This is tall enough for a two story floor with staircase included which we offer as an option. Clear top option is also available. We can also electrify
PRICES BELOW INCLUDE SHIPPING IN THE CONT. US
BIG BOY WITH WOOD PANEL TOP-INTERIOR MEASURES APPROX. 36"L X 22"H X 20"D
$339.00
BIG BOY WITH CLEAR PANEL TOP-INTERIOR MEASURES APPROX. 36"L X 22"H X 20"D
$369.00
SECOND FLOOR AND STAIRWAY OPTION
$58.00

New!- Clear top options available on all standard model.Just select the clear top option when ordering above ($12.00)
SAME DAY QUOTES ON CUSTOM SIZES
Multi room custom orders with divider up to 48" long (see custom examples below)
"...it was so easy to order, I just sent email and charged it using PAYPAL. My order arrived the same week!"

CLICK HERE TO VIEW OUR LATEST CUSTOM WORK

OUR NEW MINIATURE SPIRAL STAIRCASE DESIGN
Handcrafted original design miniature SPIRAL STAIRCASE. It is fully assembled, ready to paint, stain or simply display in it's natural state. It stands 14 1/2" tall and is 5" in diameter. It has a round base to make it free standing. It is great to display miniature objects on the steps but has enough charm to proudly stand alone.
There are four different wood species are used to offer contrast to the piece as well as a hand bent wood railing for a very elegant and authentic look.
This is a new item proudly handcrafted one at a time in the USA. A beautiful addition to any collection. Also makes a great AA or NA 12 step program recovery gift. Same superior level of quality as my other products.
We can also offer this beautiful accessory to you in custom heights to fit a dollhouse or roombox. For a custom size, simply email the exact floor to floor height and floor thickness for details and price. We can also match the top stair to your floor height. Just let us know and we will work with you. We have an informal video on Youtube that explains how it can be installed in a dollhouse or roombox and how to measure when ordering a custom size.
HIGHLY DETAILED/PRECISION CUT PARTS USED THROUGHOUT
Ready to install or display as shown $89.00
(FREE SHIPPING IN CONT US)
Please email for custom sizes and requirements

Scalecreations1
Brick, N.J
Please email with your comments or questions